Alkylphenols and alkylphenol ethoxylates: voluntary measures of industry result in a decrease of environmental burdens
Alkylphenol ethoxylates (APEO) are so called non-ionic detergents. They are widely used in industry and technology. Some of their precursors and degradation products are persistent, bioaccumulative, endocrine disruptive, and highly toxic to aquatic organisms. In 1986 and 1992, the German industry voluntarily renounced the use of APEO in cleansing agents. Since then, contamination of bream with APEO and their degradation products in German rivers declined. Contamination of blue mussels from the North and Baltic Sea was generally low and decreased further between 1986 and 2001.
Of all alkylphenol ethoxylates and alkylphenols, the 4-nonyl- and 4-octyl compounds are the most relevant in terms of commercial importance. In wastewater treatment plants they are degraded by stepwise loss of ethoxy groups to shorter homologues and finally to the respective alkylphenols. Regarding their negative environmental effects, the German industry has voluntarily renounced the use of APEO in household detergents and industrial cleansing agents in 1986 and 1992. The respective EU-wide renunciation of nonylphenol ethoxylates followed in 1995 and 2000. Furthermore, APEO containing flocculation agents for waste water treatment have been banned in the EU since 2002.
In order to assess the contamination of aquatic biota and to evaluate the effectiveness of the regulatory measures a retrospective monitoring was performed analysing bream from German rivers and blue mussels from the North Sea and Baltic Sea for 4-nonylphenol (4NP), 4-nonylphenol monoethoxylate (4NP1EO), 4-tert-octylphenol (4tOP) and 4-tert-octylphenol monoethoxylate (4tOP1EO).
Contamination of bream from German rivers
According to the higher market share of NPEO products compared to OPEO products nonyl compounds clearly dominated in bream while octyl compounds were much lower (i.e. by factors between 5 and 93). Furthermore, among the nonyl compounds, levels of nonyl monoethoxylate were up to 5 times higher than nonyl phenol. Highest contamination was observed in bream from the Saar sampling site Güdingen with 4NP1EO levels of 29.2 - 324 ng/g and 4NP levels of 9.8 – 112 ng/g wet weight (ww) in the period between 1992 and 2001. Bream from the rivers Rhine and Elbe were significantly less contaminated and showed APEO/AP-levels partly below the respective limit of quantification (LOQ). During the study period contamination decreased at all sampling sites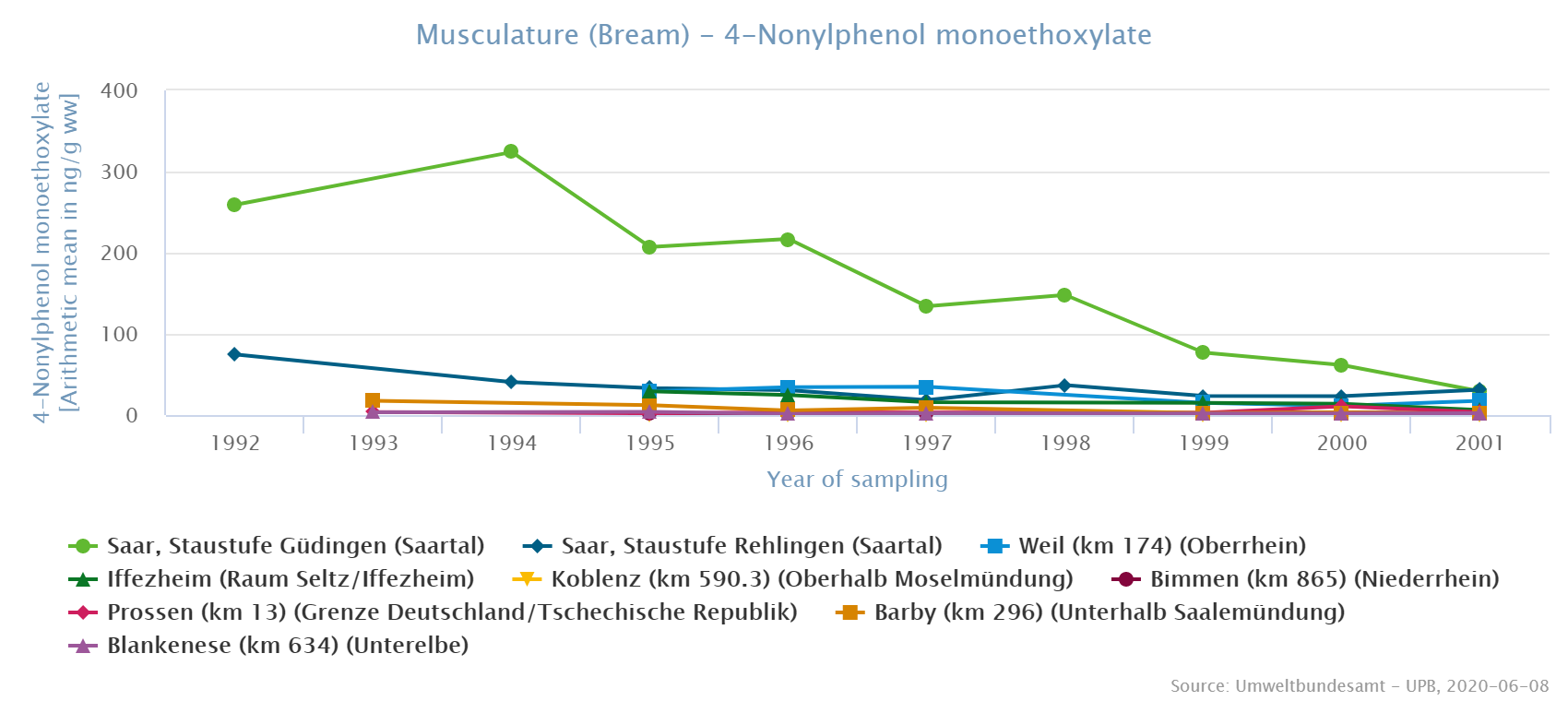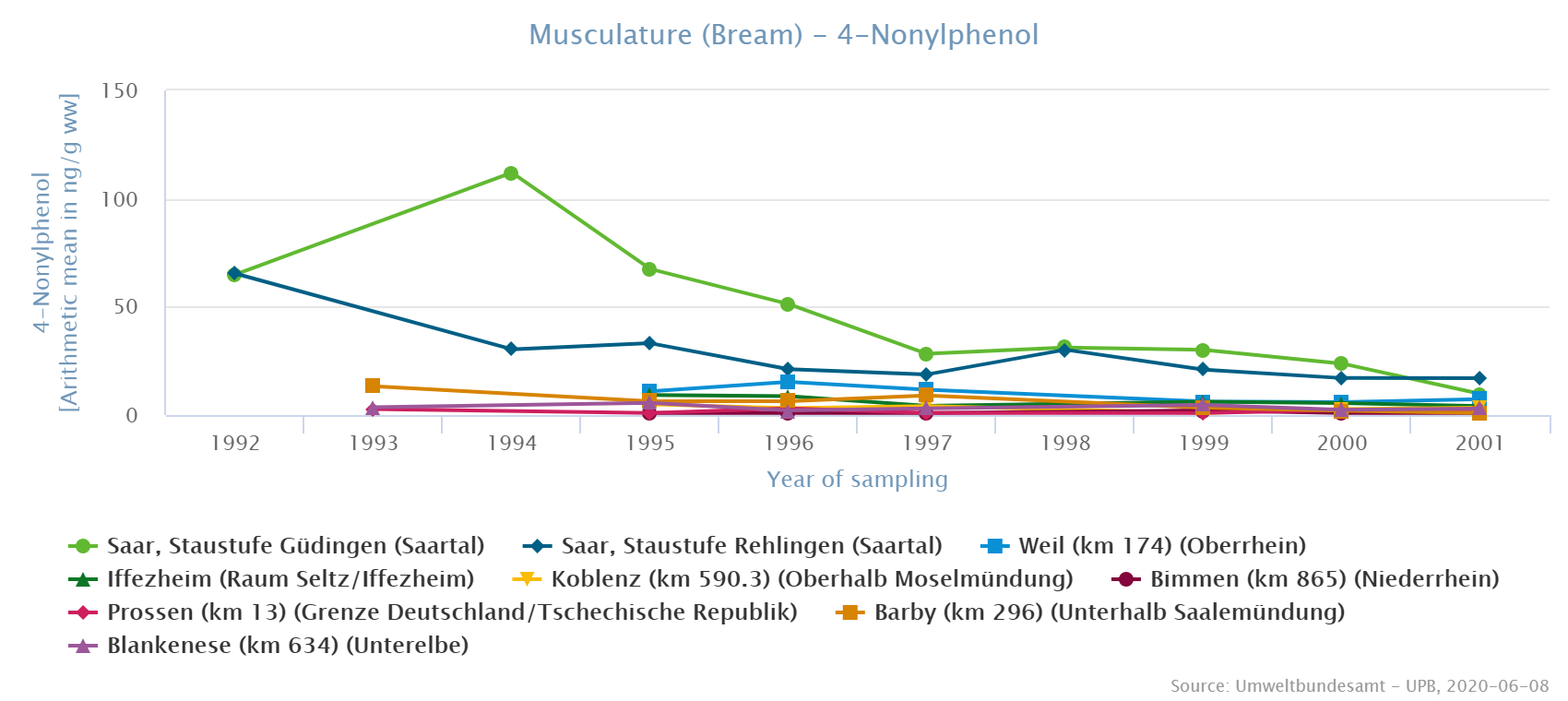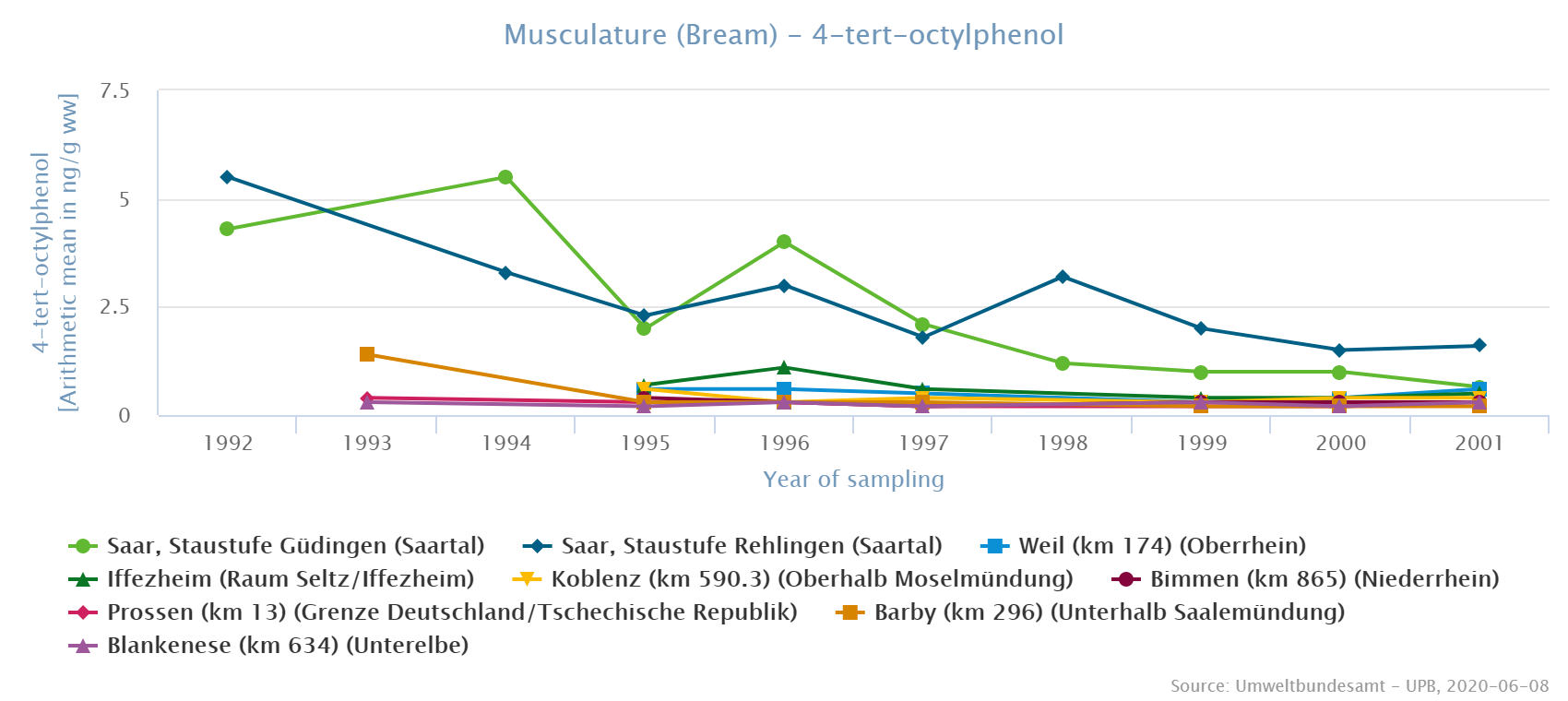 Contamination of blue mussels from the North and Baltic Sea
Contamination of mussels from the North Sea sampling site Eckwarderhörne was higher than in mussels from the Schleswig-Holstein Wadden Sea and the Baltic Sea. 4NP-concentrations in mussels from Eckwarderhörne ranged between < 2 ng/g (the limit of quantification, LOQ) and 9.7 ng/g ww. During the study period concentrations decreased and were below the respective LOQ after 1997. 4NP1EO was detected only until 1989. Levels of 4tOP were low with maximum values of 0.5 ng/g ww, and 4tOP1EO was not detected at all.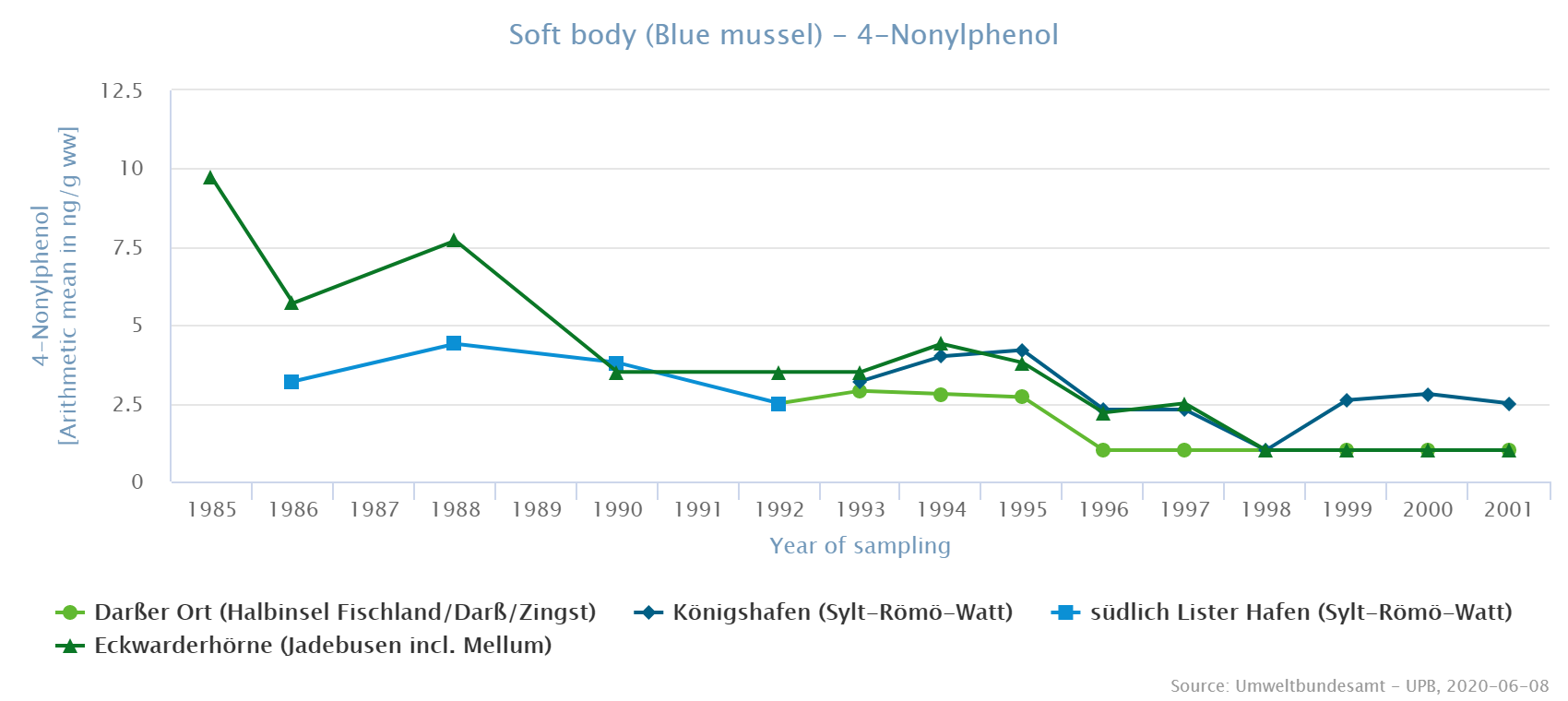 Relevance of the results
The results of the retrospective monitoring underline the efficiency of the voluntary measures in reducing APEO/AP-emissions into the aquatic environment. Converting tissue levels to water concentrations reveals that, in 2001, nonylphenol and octylphenol met the environmental quality standards (EQS) defined by the Water Framework Directive, i.e. 0.3 µg/L for 4-nonylphenol and 0.1 and 0.01 µg/L for 4-tert octylphenol in inland surface waters and other surface water, respectively.
Updated at: 2022-01-12
Recommended profiles
Specimen
Bioindicator in rivers and lakes

One of the most important edible mussel species common in the North and Baltic Sea
Analytes
Class of non-ionic surfactants and their degradation products
Extended information
Literature
Retrospective Monitoring of Alkylphenols and Alkylphenol Monoethoxylates in Aquatic Biota from 1985 to 2001: Results from the German Environmental Specimen Bank
Wenzel, Andrea; Böhmer, Wolfgang; Müller, Josef; Rüdel, Heinz; Schröter-Kermani, Christa
Environmental Science & Technology 38 (2004), 6, 1654 - 1661, 2004


Organische Zinnverbindungen, Alkylphenole und Bisphenol A in marinen und limnischen Biota der Umweltprobenbank


Lepper, Peter; Sohn, Holger; Steinhanses, Jürgen; Böhmer, Walter; Wenzel, Andrea


Berlin: Umweltbundesamt

, 2001. -176;

Texte Nr.

06/2001,

UBA-FBNr

: 000020,

Förderkennzeichen

: 297 63 155, 2001

Is there a linkage between bioaccumulation and effects of alkylphenols on male breams (Abramis brama)?
Klein, Roland; Bartel, Martina, He, Xiaohua; Müller, Josef; Quack, Markus
Environmental Research 98 (2005), 1, 55-63, 2005
To Publication